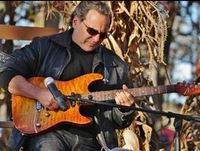 JEFF LYLE FRIEDMAN (Keyboard, Vocals)
Jeff has been playing keyboard and singing ever since he can remember.  His love of performing officially began in high school when he appeared in numerous stage productions and musicals. Then, inspired by such artists as Elton John, Jackson Browne and Billy Joel, he began performing as a solo musician at coffee houses and clubs while attending University of Dayton. Jeff plays completely by ear and enjoys the challenge of replicating classic songs the way people know them, and delivering what he likes to call "musical comfort food." 
Jeff is also a solo performer and can be found in wineries restaurants and bars in central NJ and the greater Philadelphia area.  To learn more, visit jefflylemusic.com
MATT ROBINSON (Guitar, Vocals)
Matt has been studying, playing and sharing his knowledge of the guitar for over thirty years. He has performed with a variety of original and cover bands in Hartford, CT, Richmond, VA and San Diego, CA.  He is now involved with a number of local musical projects along with Acoustic Road.  Matt is also a dedicated guitar instructor with a unique talent for making learning fun, creative and bringing out his student's unique talents. Using innovative techniques as well as traditional instruction, students are encouraged to develop their self expression and unique style. His students are excited to be able to play music that they enjoy within a short time frame. 
For more information, visit www.mattrobinsonguitar.com